Jan27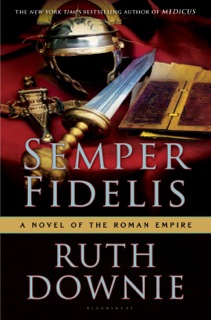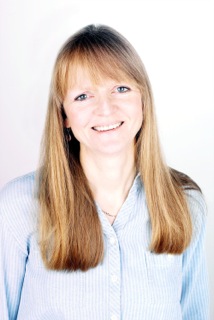 It's lucky that I'm not one of those readers who insists on starting every series with book one and only reading the rest in strict numerical order. Because, despite the fact that I seem to be connected to a book during every one of my waking moments, I frequently find that I'll pick up an interesting-looking novel, read it, thoroughly enjoy it, and discover only later that it's the third, or fourth, or seventh in a long-running series. Whoops! Then, of course, I feel that I have to go back and read the earlier ones as well. This happened, most recently, with an historical mystery by Ruth Downie, entitled Semper Fidelis. It's set in Roman Britain, a time period I really enjoy reading about. (If, after reading Downie's novels, you want to delve further into those centuries, try Sword at Sunset or Eagle of the Ninth by Rosemary Sutcliff.) In any event, I was thrilled with Semper Fidelis (which I highly recommend to any fan of mysteries or historical novels), and so happy that Ruth Downie offered to answer some questions about her books for the Book Lust website.
How does SEMPER FIDELIS differ from the past books in the series?
This is the first time any 'real' historical characters have appeared in the books, except in a very peripheral manner. The characters in SEMPER FIDELIS include the Emperor Hadrian and his wife, together with a couple of members of Hadrian's staff – one of whom, Suetonius Tranquillus, was better known as a writer of scandalous imperial biographies. He was bright enough not to write about anyone still alive, though.
As a writer, were you excited to return to the Medicus series?
I'm very fond of Ruso and Tilla. And ever since I realized that Hadrian had made a trip to Britain during the period I'm writing about, I've been looking forward to finding out what Ruso would make of it. It must have been a massive occasion – the first visit of an Emperor since Claudius came to tell the Britons they were under Roman rule eighty years before.
Did you have the entire series planned out before you began writing the first Medicus novel?
Oh no, not at all! In fact the first book began as three chapters written for a 'start a historical romance' competition. While I wanted to write about Roman Britain I had no plans to complete the story. Apart from not wanting to write a romance, while it's possible to bluff for three chapters it would soon become obvious that I knew nothing about Roman doctors.
However – when the chapters were printed in a magazine an agent got in touch to ask about the rest of the book. I realized I'd be crazy not to try, so I had to do some very rapid research. Luckily there turned out to be plenty of material. It was the agent who suggested I should turn it into a crime novel.
On reflection, forward planning is not my strong point.
How do you take on putting historical figures into a fictional story (i.e. Emperor Hadrian and Empress Sabina)? Do you feel a pressure to stick to the history or do you enjoy using artistic license?
I try to stick to the history as far as we know it. Not only is it more interesting for the writer to have that sort of challenge, but it's less likely to annoy readers who know a lot about the period. I know stories like 'Gladiator' successfully included a lot of artistic licence, but when a recent film began by naming a governor of Britannia who'd actually been dead for decades by that time, I went straight into Sad Pedant mode and couldn't enjoy the rest of it.
Having said that, although we know a great deal about Hadrian there are still huge gaps, and the records tell us very little about Sabina. What we do know is that they deeply disliked each other, and that there was some sort of scandal involving her and her husband's staff that probably happened while they were visiting Britannia. So the history was a gift, really. All I had to do was fill in the missing details.
Is the character of Ruso based off of anyone in history?
No, he's his own man.
Semper Fidelis ends on a bit of a cliff-hanger. What can readers expect to come next for Ruso?
Britannia was a busy place in those days, with all the legions in the province sending men north to build the Emperor's Great Wall. I imagine that, given the risks of all that heavy work, not to mention the disgust of the locals, they'd need quite a few medics…
Do you see yourself departing from Medicus and working outside the historical fiction genre in the future?
I think I'd enjoy a change for a while, although probably still within a historical context. I have one or two ideas but I'm still debating exactly where to go.
What do you enjoy reading and which writers have you been influenced by?
Oh dear, I have a feeling this answer changes depending on what I've just read! I have a degree in English Literature and while I'm glad to have read a lot of the classics it took me many years to get over the foolish notion that fiction was there to be analysed and evaluated rather than enjoyed (which in practice meant I always tried to find something else to do).
Now, however… I've just thoroughly enjoyed the first book of the Hunger Games, and Ian Rankin's new Malcolm Fox series is great. Hilary Mantel's Thomas Cromwell books are a joy, and I always look forward to Martin Cruz Smith's next episode of Renko. Finding Lindsey Davis's Falco novels was a delight and a relief, because I finally realized that it was not considered weird to write normal dialogue in a historical novel. In fact I love people who use dialogue well. Elmore Leonard, Janet Evanovich…
I'll stop there. After all, why listen to me rambling on about enjoyable books when you could be reading one?